5- Piece Skinsual Skincare System
$ 87.99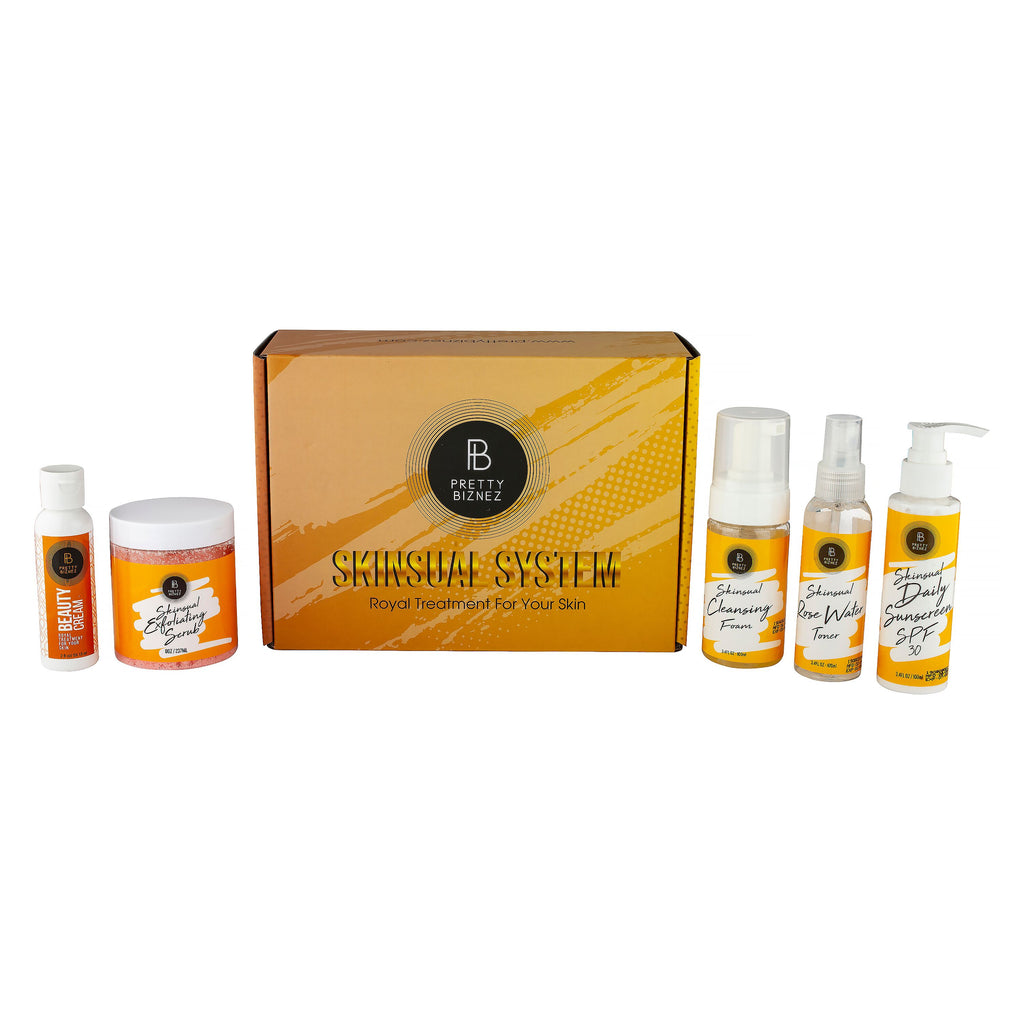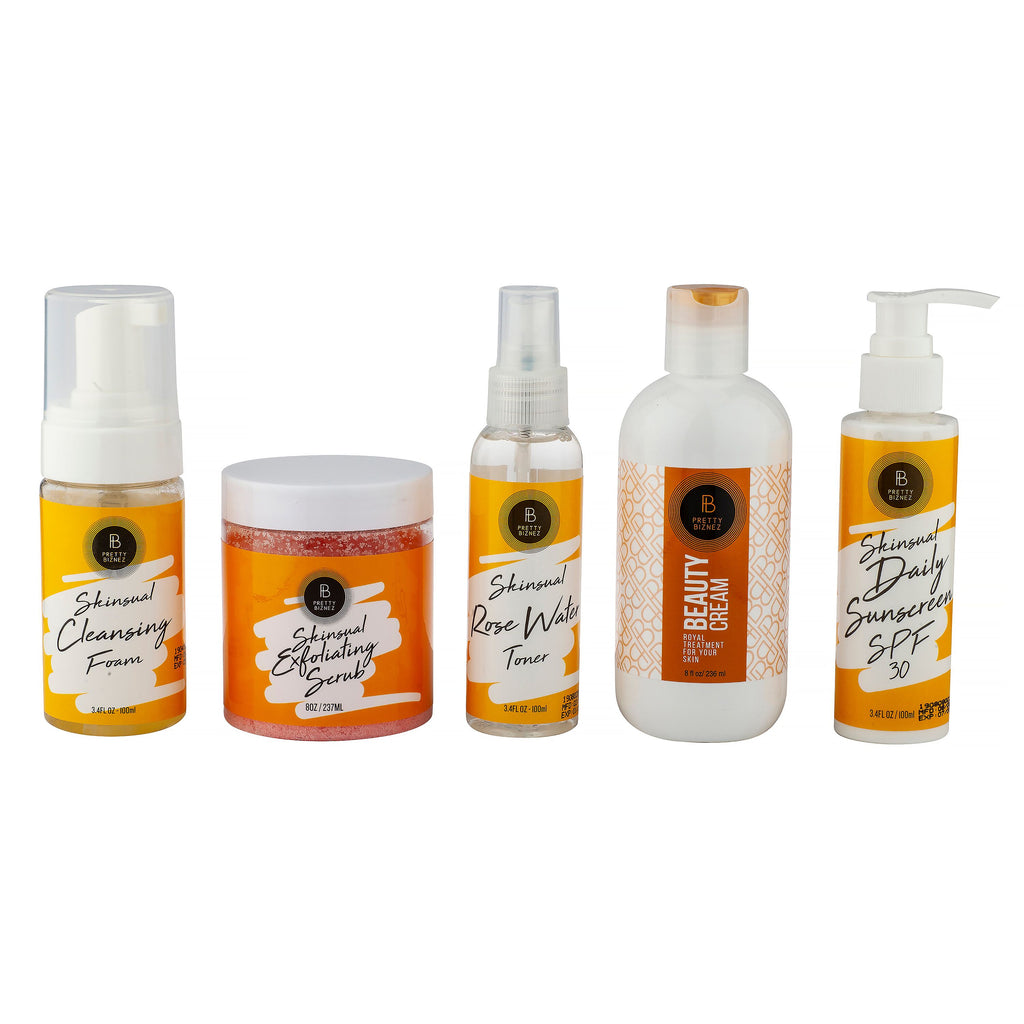 5- Piece Skinsual Skincare System
$ 87.99
5-PIECE SKINSUAL SKINCARE SYSTEM  
Imagine going through the hassle of hunting different skincare products from other brands, paying exorbitant amounts for each, only to find out later they either react with your skin and irritate it, or they do not complement each other. Now you're stuck with an expensive collection of useless products you cannot get rid of? All that wasted time, energy, and money, and then you find out only a fraction of it was all it took to bring the entire dermatologist skincare experience home.
That's right. With the Pretty Biznez 5-piece Skinsual Skincare System, we bring you the single most fabulous team-up since the Avengers.
The All-Star Lineup
Take your already-breathtaking natural beauty to the next level and command respect and adoration with the Pretty Biznez Beauty Cream.
Win the battle against solar UV radiation damage and keep your skin armored stronger than Ironman with the Skinsual SPF30 Sunscreen.
Add an elegant rose-y flair and style to your skincare routine and bedazzle all onlookers with the sheer freshness and radiance of your skin with the Skinsual Rose Water Toner.
Exfoliate armies of bacteria and layers of dead skin cells, releasing your clogged pores and destroying all chances of ever encountering acne and eczema with the Skinsual Exfoliating Scrub
Restore the youthfulness and baby glow of your skin with the time reversing the effect of the Skinsual Cleansing Foam
This system takes on all your skincare needs, and you get a single package of versatile and practical products guaranteed to take your skincare game to royal heights. With an all-star lineup like this at a price tag too strong to defeat, you can rest easy knowing your time, money, and energy could not be spent on a better system than the Pretty Biznez 5-Piece Skinsual System.
Here's a Look At Everything This System Comes With…
This System Contains:
Cleansing Foam 3.4 oz

Ingredients:
Water, Sodium c12-14 Pareth-3 Sulfate, Glycerin, Lauryl Glucoside, Cocamidopropyl Betaine, Poloxamer 188, Poloxamer 331, Erythritol, Erythritol, Butylene Glycol, Phenoxyethanol, Parfum, Disodium Edta, Methylisothiazolinone, Ethylhexylglycerin, Citric Acid, Prunus Speciosa Flower Extract, Butylene Glycol, Phenoxyethanol, Dipropylene Glycoll, Rosa Damascena Flower Water, Phenoxyethano, Chlorphenesin, Glycerin, Caesalpinia Spinosa Gump, Phenoxyethanol, Potassium Sorbate, Propylene Glycol, Butylene Glycol, Cucumis Melo (Melon) Fruit Extract, Glycine Soja (Soybean) Seedcake Extract, Corallina Officinalis Extract.
Exfoliating Scrub 6 oz
Ingredients: Aqua, Sodium Chloride. Propylene Glycal Glycerin. Saccharide Isomerate. Cocamidopre-pyl Betaine,. Simmondsia Chinensis UJojoba) Seed Oil. Carbarymettyl Hydroxyethylcellulose, Disodium Edta. Aloe Barbadensis Leaf Juice, Panthenol. Hydrolyzed Elastin, 1,2-Hexanedio lavandula Angu fu glia darender/Ol.

Rose Water Toner 3.4 oz
Ingredients:
Water, Glycerin, Propylene Glycol, Biosaccharide Gum-1, Aloe Barbadensis Leaf Extract, Chrysanthellum Indicum Extract, Malva Sylvestris (Mallow) Flower Extract, Bacillus/Glutamic Acid Ferment Filtrate, Phenoxyetha-nol, Caprylhydroxamic Acid, Ethylhexylglycerin, Disodium Edta, 1,2-Hexane-diol, Sodium Hyaluronate, Peg-40 Hydrogenated Castor Oil, Aroma.
Brightening Moisturizer 2 oz, or 8 oz
( Please choose the moisturizer strength, and size based on skin condition).
Ingredients:
Citrus-Infused Herbal Distilled Water, Soya Extract, Organic Shea Butter Extract, Organic Coconut Butter/Oil, ( active) Kojic Acid, ( active) Alpha/Beta Arbutin, Seaweed Extract, Organic Grapeseed Oil, ( active) Licorice Root Extract, Organic Avocado Oil, Hibiscus Flower Extract, White Mulberry Bar, Royal Jelly, Moroccan Argan Oil, Organic Pomegranate Seed Oil, Vitamins: A, C, E, B3,Lavender EO, Paraben-Free Preservative
Sunscreen SPF 30 3.4 oz
Ingredients:
Water, Glycerin, Propylene<br>Glycol, c12-15 Alkyl Benzoate,<br>Caprylic/Capric Triglyceride, Ethylhexyl<br>Methoxycinnamate, c20-22 Alkyl<br>Phosphate, Biosaccharide Gum-1, c20-22<br>Alcohols, Cetyl Ethylhexanoate, Ethylhexyl<br>Salicylate, Paeonia Suffruticosa Root<br>Extract, Aloe Barbadensis Leaf Juice,<br>Tremella Fuciformis Extract, Titanium<br>Dioxide, Xanthan Gum, Tocopheryl<br>Acetate, Phenoxyethanol,<br>Triethanolamine, Caprylhydroxamic Acid,<br>Ethylhexylglycerin, Disodium Edta,<br>1,2-Hexanediol, Sodium Hyaluronate,<br>Peg-40 Hydrogenated Castor Oil, Aroma.