Luminous Lightening Serum 4 oz
$ 100.00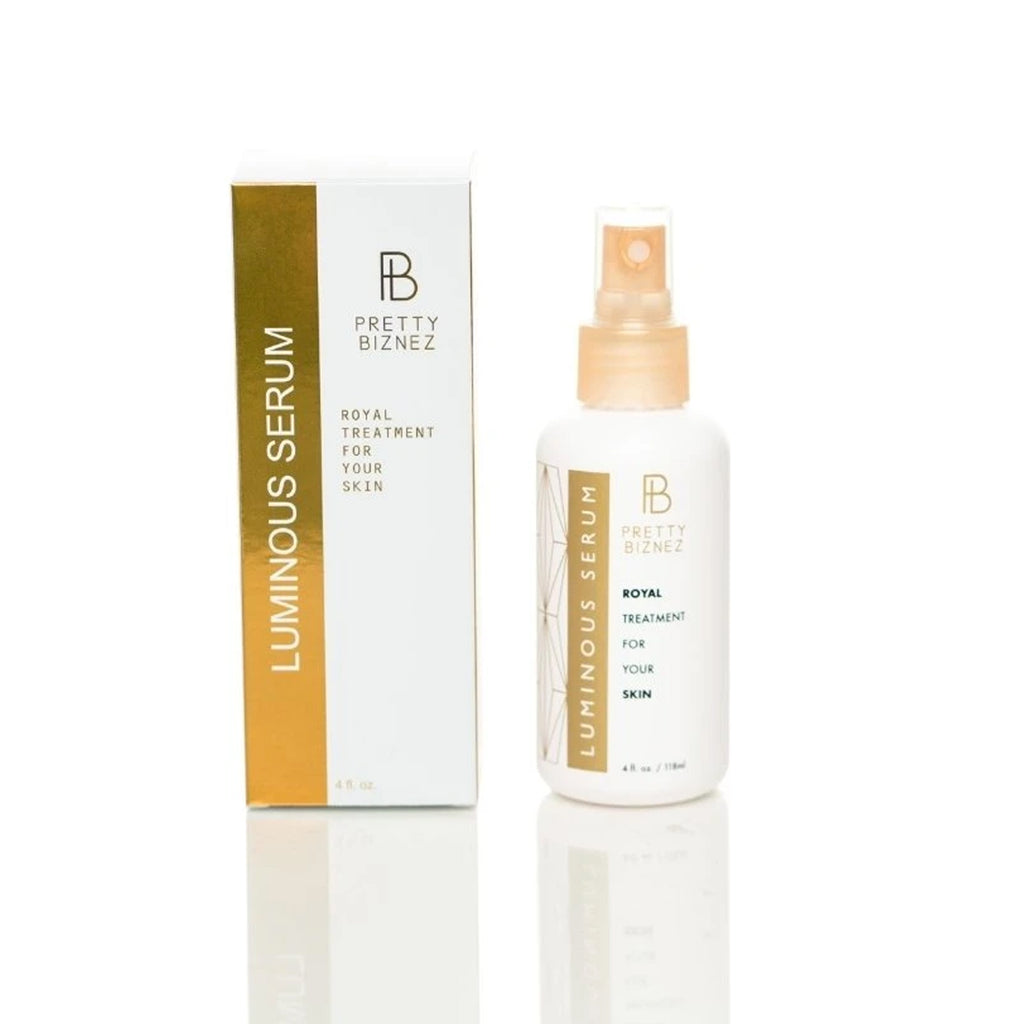 Luminous Lightening Serum 4 oz
$ 100.00
For combination skin. Non Oily base Luminous Serum (If you have oily skin this would be your favorite).
The Luminous Serum only comes in one strength. The Luminous Serum is more potent than the Beauty Creams. See rapid changes in your skin within 1 day.
Ingredients: Kojic acid, Aloe, Mulberry, Saxifraga, Papaya, and Hyaluronic Acid.
Sadly, we now live in a world with a million reasons to be down and dull when it comes to our health. We don't find time in a fast-paced lifestyle, we don't eat right, we don't exercise enough and when it comes to skincare, we're simply too careless.
Eventually, our negligence catches up to us in the form of blemishes, acne, acne scars, dry patches, dark spots, wrinkles and more. These are all ways our face cries out for help and we are here to answer that call and return your skin to its former luminous and glowing radiant self with the Pretty Biznez Luminous Serum.
Why You'll Love It
The Luminous Serum is simply facial radiance reimagined, with the latest and greatest blend of natural extracts to provide a serum with virtually no risk of allergic reactions or side effects.
Enriching each layer of your skin with natural nutrients and vitamins to reveal your true beauty in all its shine and glory. Why hide when you're meant to shine, right?
Rapid absorption into the skin coupled with its oil-balancing power to give people with naturally oily skin the chance at an Acne free life we know they deserve. A true companion for all.
Have all of your skin be on the same page with the Luminous Serum's potent concealment of any and all imperfections like uneven tone, dark spots and blemishes.
Beyond easy application by just spraying onto the target area and a gentle massage later it's already working at 100%
Benefits
Improves and refreshes skin gently and effectively.
Vastly reveals brighter, smoother skin for a luxurious look and feel.
It helps conceal discoloration and evens skin spots. As potent as the PB Extra Strength Beauty  Cream works faster, and isn't oily.
If you have oily skin this would be your favorite. Great maintenance agent for clearing and brightening the skin if you don't want to use PB Beauty Cream.Comes with a spray top.
Sprays easily on any area, so you aren't wasting any of the product on product utensils, or product seeping between fingers. 
Directions of Use
The Pretty Biznez Luminous Serum is your skincare companion come day or night. Simply spray onto the pre-cleansed target skin area twice a day and with regular use, it won't be long before you watch the radiance return to its former glory.
What is a serum? How is it different from creams and moisturizers?
A serum is like the main course of your three-course meal. Because it contains nourishing ingredients for your skin, it is a skincare product with medium to thin consistency. This serum helps to deliver high amounts of nutrients and active ingredients to the skin. The best thing about serum is that a little amount is sufficient to produce the effect. Most often, a serum produces moisturizing effects better than a moisturizer itself.
What Does PrettyBiznez Luminous Serum Do?
The PrettyBiznez Luminous serum helps you to stand out in a crowd. It pampers your skin with all the nutrients that it needs. These nutrients are obtained directly from nature. With the help of this serum, you will be setting a gold standard for your skin, which will leave it soft and luxurious.
What are the main ingredients?
There are only a few ingredients used in the product that helps it to achieve the desired effect. The PrettyBiznez Luminous serum is made from a blend of Kojic acid, Aloe, Saxifraga, Papaya, Mulberry, and Hyaluronic Acid.
Is it safe?
The ingredients used in the product are completely safe. Because all of the products are 100% natural, these ingredients do not produce any side effects. They are obtained from only premium sources. This way, you will only achieve a quality product at the end.
What makes it different from the others?
PrettyBiznez Luminous serum sets a gold standard for your skin. There are plenty of products in the market, but none can provide your skin with the nutrients that this product does. It helps to make your skin firm and resilient. These are a reflection of what your skin truly is.
How to use it?
All you have to do is apply the product on your skin. Gently rub it in a circular motion until it gets completely absorbed. The maximum absorption of the product allows it to produce maximum effects.
When to use it?
The best thing about luminous serum is that it is safe to use at any time of the day. All you have to do is cleanse the face before application. However, if you wish to achieve maximum results, we recommend that you use it at night before going to sleep. This way, the product will be able to absorb naturally in your skin.
Do I need to use any other product with it?
The product is sufficient to produce the desired effect. However, we recommend a few of our products to be used in conjunction with it. These include the PrettyBiznez Beauty Cream and Skinsual Face and Body Bar. These will help you give an advanced treatment to the skin. Furthermore, you can use an SPF that will protect your skin from exposure to the sun during daytime use.
What are the Benefits of the Luminous Serum?
There are numerous benefits of the Luminous Serum. It helps to improve and refresh the skin. It helps in getting bright and smooth skin. The product even helps with dark spots and discoloration. The luminous serum also works as a cleansing and brightening agent.
What Does the Hyaluronic Acid Do?
Hyaluronic acid is a natural ingredient that is available in our skin but in small quantities. The purpose of adding hyaluronic acid is to provide the skin with a moist effect. This is because hyaluronic acid helps to maintain hydration of the skin. It retains the water content of the skin and is, therefore, an excellent anti-aging ingredient. It is very effective in the reduction of wrinkles and improving the elasticity of the skin.
I have oily skin. Is it suitable for me?
Yes definitely, The PrettyBiznez luminous serum was specially made for people who have oily skin. We at PrettyBiznez know how hard it is to find a product that suits the oily skin. However, with our luminous serum, you do not have to worry about this. The luminous serum does not have an oily consistency. Trust us when we say that this is going to be your next favorite beauty product.
What are the Benefits of Kojic Acid?
Kojic acid is one of our prime ingredients in the formulation of PrettyBiznez Luminous serum. A natural ingredient helps with skin toning. This is not where the benefits of Kojic acid ends. It also possesses anti-microbial properties. In this way, it helps the skin to fight off different types of bacteria. It means that it is one of the best ingredients if you are looking for a solution to your acne problems. Moreover, it also helps in reducing dark patches on your skin.
How Do I know That Luminous Serum will not produce any reaction to my skin?
Our products are completely safe and natural. We ensure that there are no synthetic chemicals used in our products. However, if you feel that you have highly sensitive skin, you can always do a skin patch test. For this, apply the product on any area of the face that can be easily covered. This can be the underside of your jaw or behind the ear. Wait for one to two days and check if you have any reaction to the product. If not, then know that this product is perfect for your skin.
Does luminous serum help with hyperpigmented skin?
Yes, absolutely. PrettyBiznez was made on the foundation of treating hyperpigmented skin. Kojic acid is very effective for hyperpigmentation, and it is found in our luminous serum. You will be glad once you start using the product. You can leave all your worries behind and flaunt your royal skin. Go ahead and try it out. You will most certainly not regret it.
I have blackheads on my skin. Will this product help?
Yes, you are in the right place. Blackheads are a difficult thing to get rid of. People often try too hard to remove the blackhead, but most often, their efforts go in vain. Hyaluronic acid is a natural ingredient that helps to get rid of blackheads. It moisturizes the skin so that your pores are not clogged with dead skin. Luckily, our luminous serum contains hyaluronic acid. This product will help you get rid of those annoying blackheads in no time.