Brightening Body Scrub 8 oz ( Potent Formula)
$ 50.00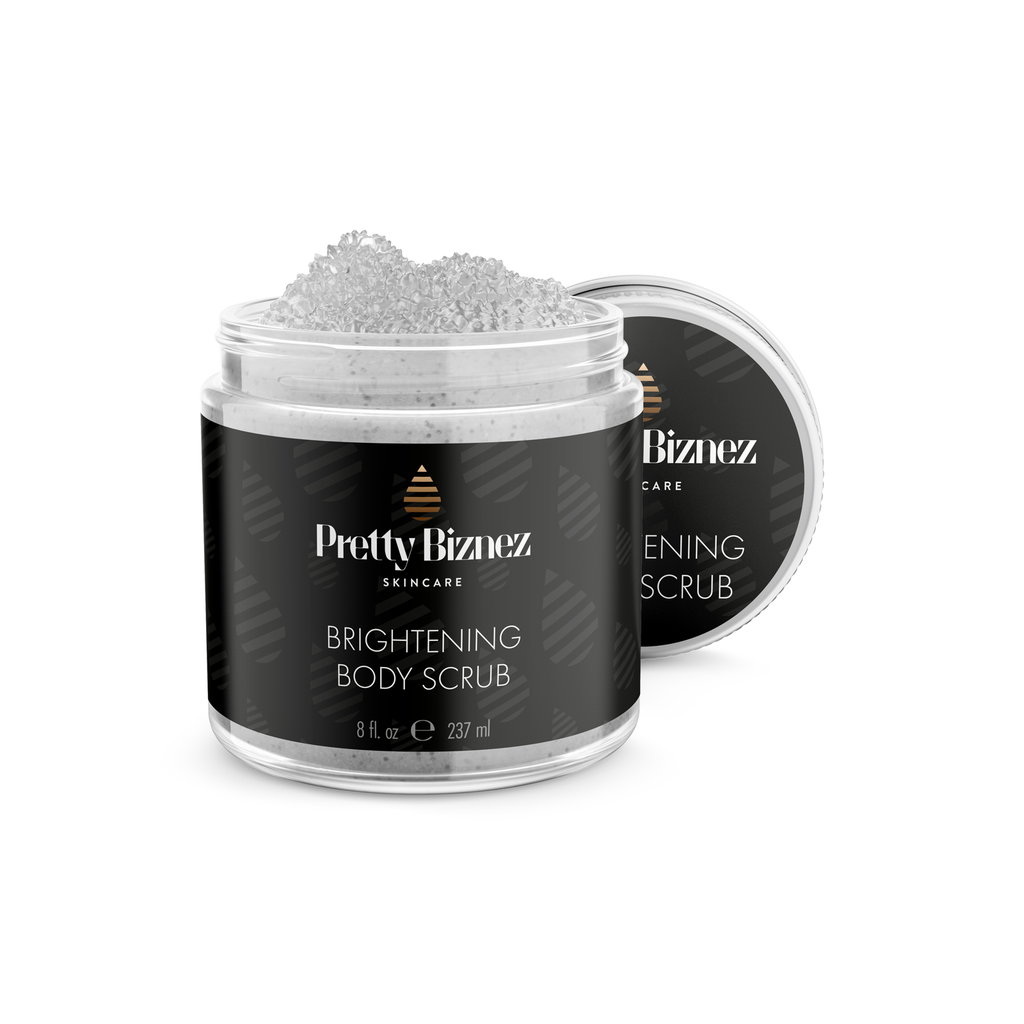 Brightening Body Scrub 8 oz ( Potent Formula)
$ 50.00
We believe skincare to be a holistic affair, not just limited to your face, hands, or feet, but the entire body deserves just as much thoughtful care and attention. Your body is a temple after all and just as eating right is vital to maintaining a healthy interior, the exterior surface also requires well thought out nourishment that is easy but also doesn't break the bank.
For the whole body temple, Pretty Biznez is proud to introduce our latest and greatest, the Brightening Body Scrub. Now your entire being will be just as pampered as your face is.
Why You'll Love It
Discoloration and uneven skin tone is the scourge of the entire body, not just the face. With powerful ingredients such as Kojic Acid and Mulberry, return your body to an evenly toned skin that exudes freshness and health.

Let our Brightening Body Scrub cleanse each and every pore on your skin to perfection. Just like our other amazing scrubs, you can confidently exfoliate your skin with microbead technology to achieve pristine skin.

Let the revolutionary actions of Mandelic Acid in our body scrub even out your skin tone and texture with virtually no side effects, a masterpiece not even the best sculptors can create.

Watch your acne leave your body and your life with the supercharged Licorice Root and White Bark extracts in the Brightening Body Scrub.

Not all skin areas of your body are made equal and it is crucial to target even the most delicate of skin layers. This is why the Pretty Biznez Brightening Body Scrub delivers powerful exfoliation but in a gentle enough manner to preserve the integrity of even your most sensitive skin areas.
Directions of Use
Use once or twice per week. More than 2x per week of exfoliants can cause irritation and dryness for all skin types, but especially  for those prone to dryness or sensitivity.
Apply a small amount of the Brightening Body Scrub on your hands when you're in the shower, and gently massage it onto your target areas in a circular motion, letting the microbeads sufficiently cleanse out your pores and relieve you of dead skin cells. Wash it off with water and experience premium skincare.