Beauty Cream Kojic Lightening Moisturizer
$ 12.99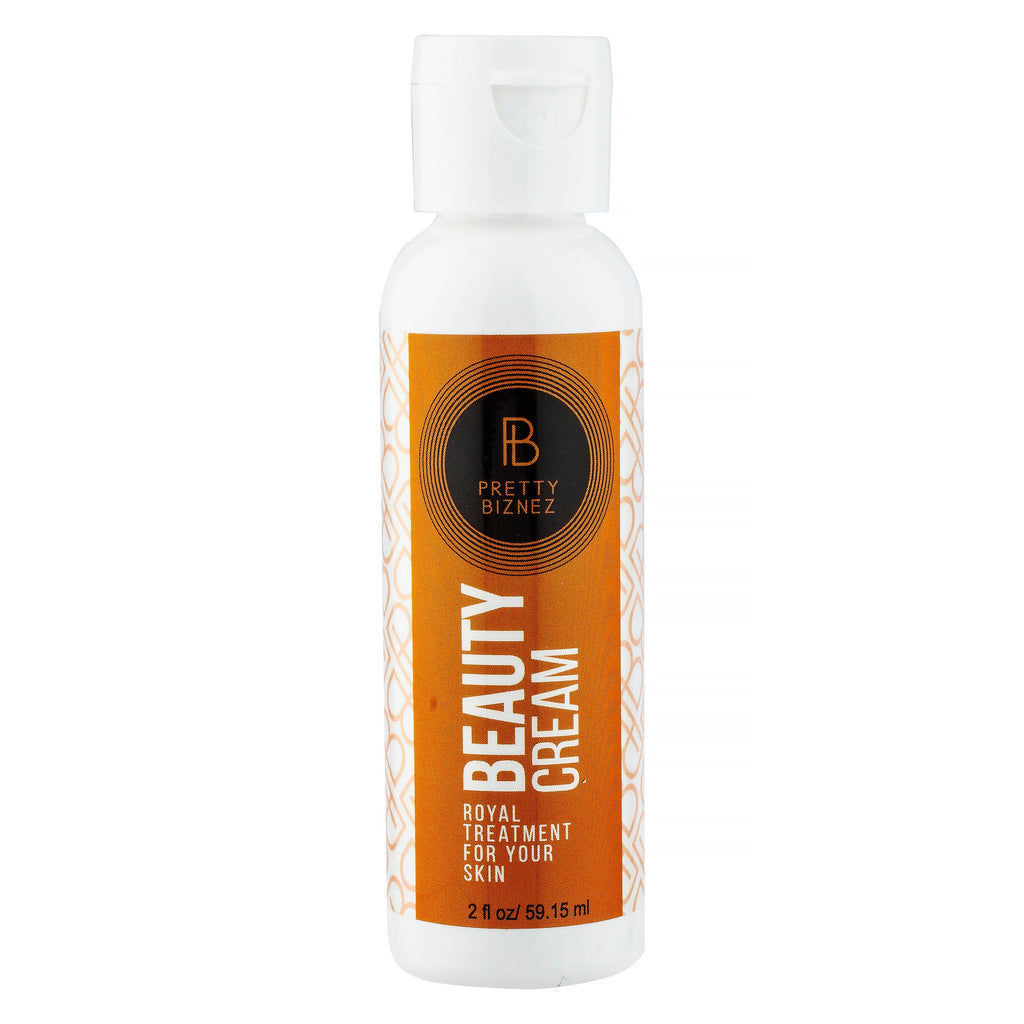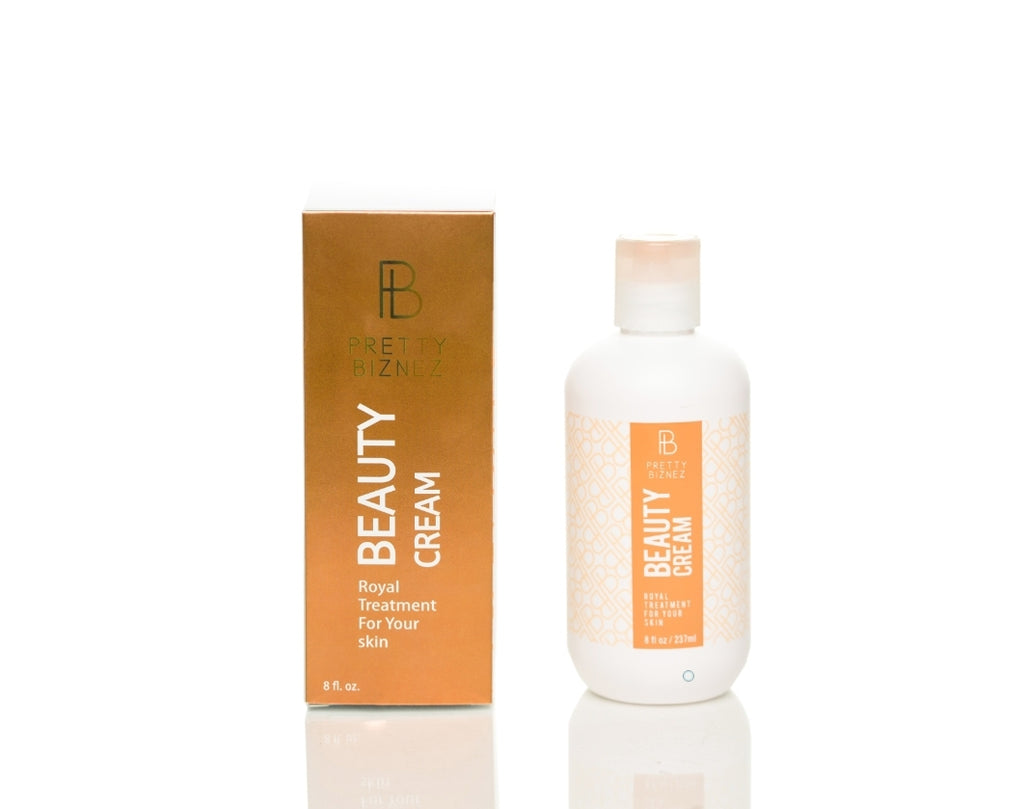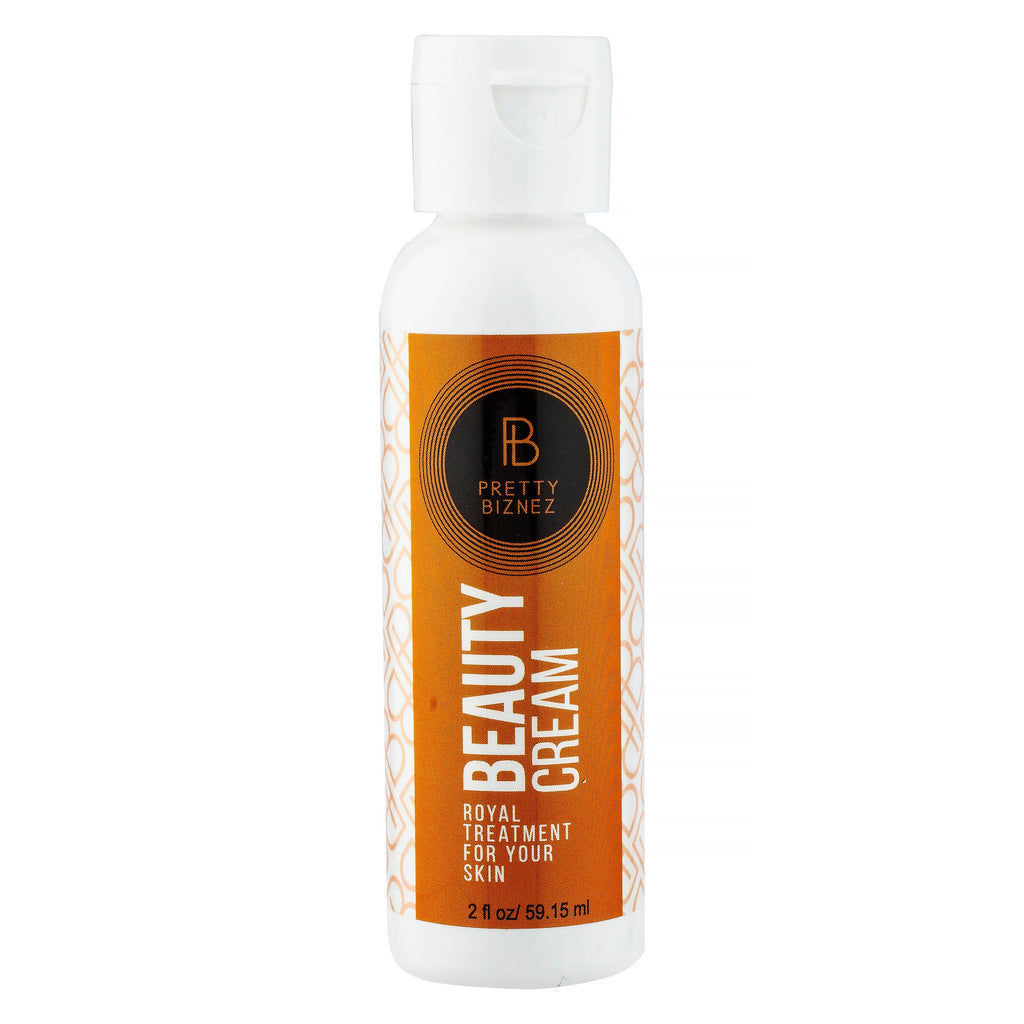 Beauty Cream Kojic Lightening Moisturizer
$ 12.99
Standard – for the face, neck, and chest.
Extra Strength – for the rest of your body.
Maximum Strength - Stubborn areas on the body
Standard - Helps conceal the appearance of face, neck, and chest skin hyperpigmentation. Recommended for Kings and Queens who desire a milder toning process.
Extra Strength - Helps conceal the appearance of skin discoloration to the neck, inner thighs, knees, elbows, buttocks, and other larger body surfaces that have dark marks and stubborn hyperpigmentation. Recommended for Kings and Queens who desire a rapid toning process.
Maximum Strength- Our strongest formula in the Pretty Biznez family, Maximum strength is used for the face and any other area of the body. It's designed to deliver rapid results and may cause immediate brightening of skin for hyperpigmented areas and darker spots. Maximum Strength may help to correct certain skin conditions, such as sun-damaged skin, eczema, and acne scars. The results are quick and visible almost immediately, so we only recommend maximum strength to be used by our clients who have previously used Standard and Extra Strength.
Attention Clients:
We've listened to your feedback and are thrilled to introduce our enhanced packaging and increased size for this product! You will now receive 10.14 oz of our amazing formula in a stylish bottle featuring a convenient gold pump strip. Experience the superior benefits and enjoy more of what you love with this exciting update. The 8oz size are no longer available for Standard, Extra, and max Strength and soon for the Advanced Solutions. 
The 1 oz size Brightening
We want to let our online shoppers know that our 1 oz Moisturizer, no matter the strength, may be difficult to squeeze. Please keep this in mind when purchasing and only choose the 1 oz size if you are comfortable pressing hard on the bottle or using a sterilized spatula or q-tip to access the product. Thank you for your understanding.
Transform your skin with our potent cream, formulated with organic ingredients like coconut oil, avocado oil, and argan oil. Infused with active ingredients like Kojic Acid and Alpha/Beta Arbutin, this cream lightens and brightens your complexion, while Vitamins A, C, E, and B3 nourish and protect your skin. Our paraben-free cream is also enriched with herbal extracts and essential oils like lavender, leaving your skin feeling rejuvenated and refreshed. Use daily as part of your skincare regimen for radiant, glowing skin.
How To Use
We recommend using the Skinsual Brightening Moisturizer regularly twice daily. Apply on to your face and gently spread it all over the face. Rub until it is fully absorbed, and then watch the magic happen. 
Benefits
Reducing the appearance of dark spots and uneven skin tone
Brightening and evening out the complexion
Providing hydration and nourishment to the skin
Helping to prevent future hyperpigmentation
Promoting a more radiant and youthful appearance
these beauty creams  may be beneficial for individuals with hyperpigmentation, dark spots, uneven skin tone, or dry skin.
Standard Strength: Ideal for facial dark spots and hyperpigmentation. Best suited for those looking for a milder toning process.
Extra Strength: Great for both face and body, perfect for anyone who wants to see results quickly.
Maximum Strength: Specifically designed to provide rapid results for hyperpigmented areas and dark spots. Only recommended for those who have previously used Standard or Extra Strength.
Advanced Solutions: Potent formula that can help correct skin conditions like sun-damaged skin, eczema, and acne scars. Recommended only for those who have used Standard, Extra Strength, or Maximum Strength. Choose the strength that suits your needs!
Ingredients:
Citrus-Infused Herbal Distilled Water, Soya Extract, Organic Shea Butter Extract, Organic Coconut Butter/Oil, ( active) Kojic Acid, ( active) Alpha/Beta Arbutin, Seaweed Extract, Organic Grapeseed Oil, ( active) Licorice Root Extract, Organic Avocado Oil, Hibiscus Flower Extract, White Mulberry Bar, Royal Jelly, Moroccan Argan Oil, Organic Pomegranate Seed Oil, Vitamins: A, C, E, B3,Lavender EO, Paraben-Free Preservative
Who can use PrettyBiznez Beauty Cream?
Anybody can use this product. It is specially designed to suit the skincare needs of an individual. Therefore, if you are looking for a product for daily use. Or If you are looking for a product to treat your skin conditions, then PrettyBiznez Beauty cream is just made for you. It will help you achieve the flawless look that people dream about.
What is it made of?
The products are uniquely customized. It contains a blend of oils and botanical extracts. These ingredients are of high quality. It means that you do not have to worry about any side effects or adverse reactions to your skin when using the product. It is even free from Parabens. This is how the product helps to achieve a natural shine.
Does this beauty cream contain any chemicals?
No, absolutely not. Our entire product range is completely free from any chemicals. This makes the product is completely safe as it contains natural products. At PrettyBiznez, we care about your safety first. That is why we only use natural oils and plant extracts in the preparation of this beauty cream. These ensure that the product is free from any type of chemicals.
Where can we use the product?
The product ensures a head to toe experience. It means that it can be applied to different areas of the body. The standard formulation can be used on the face, neck, and chest. Then comes the extra strength formulation which can be applied to the rest of the body. Lastly, the maximum strength formulation can be used on all the stubborn areas of the body.
What are the benefits of PrettyBiznez Beauty Cream?
There are many benefits that this product possesses. It helps to soothe the breakouts on the skin. It helps to calm the irritated skin. It is also beneficial in the reduction of dark spots on the skin. Lastly, but most importantly, it helps in improving the overall appearance of the skin. It means that it helps to even the skin tone.
How to apply the Beauty cream (brightening moisturizer)?
First, you will need to cleanse the skin. You should cleanse the face before going to sleep. This way, you can get maximum absorption overnight. Now massage the product on the skin with gentle but firm motions on light wet skin.
Why is the Beauty Cream recommended to use at night?
Although you can apply the beauty cream at any time of the day, exposure to the sun can irritate the skin. Plus, the effects of the product will not be noticeable if applied continuously during the day. This is because it won't get enough time to absorb properly. Therefore, you should use it before going to bed. This way, the product gets enough time to absorb in the skin. This promotes a sensual skin that looks fresh in the morning. This way, you will look different for the entire day to come.
Which strength of the PrettyBiznez Beauty Cream is best for me?
The beauty cream is available in three strengths. Each one has its benefits. Let's go through the characteristics of each strength that will help you to make a better decision
Standard: This is useful for the upper body, which includes the face, neck, and chest. It helps to reduce the hyperpigmentation in those areas. It is useful if you wish to achieve a mild toning process
Extra Strength: This is for the entire body. It helps to reduce discoloration around larger surfaces that have dark spots. These include thighs, knees, elbows, buttocks. This is useful if you wish to achieve a rapid toning process.
Maximum strength: This is the strongest formula. It helps in the delivery of rapid yet effective results all over the body. It helps to achieve quick, brightening effects. This may even be useful for the treatment of certain skin conditions such as eczema and acne scars.
Can the beauty cream help with skin conditions?
Yes, absolutely, our maximum strength formula is specially designed for people who suffer from skin conditions such as eczema and acne. Both of these conditions are difficult to clear from the skin. Acne scars often leave marks on the skin that do not fade away, even with the most effective treatments. However, with the help of our maximum strength formula, you will see a noticeable difference in these skin conditions. The results from this product are quick, so you do not have to wait for a long time to see the results.
Is the product paraben-free?
When we claim that our products are completely safe, we mean it. Our products are paraben-free. Parabens are harmful chemicals that are used in products to extend their shelf life. Various researches claim that these molecules cause tumors in users. Hence, because we care about the safety of our clients, we make sure that it is free from any type of harmful chemicals.
What makes PrettyBiznez beauty cream different than others?
We are well aware that many similar products in the market claim similar benefits. But not all of these are effective. Our product is not just a beauty cream. It is based on the foundation of skincare that was used by the kings and queens to keep their skin sensual. Our quality product is what makes us different from the rest and make sure that beauty is something that is in everyone's reach.
My skin is hyperpigmented. Can this beauty cream solve this?
Hyperpigmented skin means that certain areas of the skin are darker than the rest. This usually happens due to aging or because of excessive exposure to sunlight. It is highly effective for hyperpigmented skin. It contains the four super ingredients that help with hyperpigmentation. These include vitamin C, Kojic acid, Vitamin B3, and arbutin and what could be better than to find all of these things in a single product.
Do you offer skincare bundles with PrettyBiznez Beauty Cream?
Yes, we have different types of bundles that can enhance your experience of skincare. You can buy our bundles that contain many goodies along with this beauty cream. A basic bundle comes with a face & body bar soap, exfoliating body gloves, and backcloth and mini face & neck brush. OR you can try premium bundles that contain a dual sensual face & body bar soap, a soap dish, and an electronic face spin brush.
So, what are you waiting for? Go ahead, and have a detailed look at our bundles.
Will I need any other products with Brightening moisturizer?
No, the brightening moisturizer itself is sufficient to tend to all your skin needs. It is self-sufficient if you need a healthy-looking skin or if you wish to treat acne and eczema. However, if you want the best results, you can use the brightening moisturizer with Pretty Biznez luminous serum and sensual face & body bar. This will ensure the best results when used with consistency.